Latest News
See the latest news from Screenwest and the Western Australian Screen Industry, including new initiatives from Screenwest, projects filming in Western Australia and achievements by WA creatives.
Photo credit

Ashleigh Nicolau © Matchbox Productions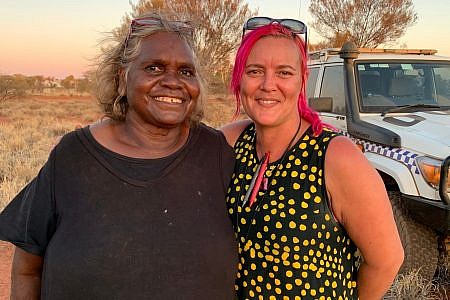 Monday, 20 September 2021
Our Law Documentary Series Commissioned by NITV
Following the success of the 2020 half hour WA documentary, Our Law, a full six-part documentary series has been commissioned by NITV.
Wednesday, 8 September 2021
Three Western Australian Web Series Greenlit for Production Through 'Out Now'
Three Western Australian LGBTQIA+ web series have been greenlit for production, with each receiving $100,000 funding from Screenwest and Screen Australia through the Out Now funding initiative.
Wednesday, 8 September 2021
Screenwest Welcomes Lauren Elliott
Screenwest is excited to welcome Lauren Elliott as Head of Communications
Wednesday, 8 September 2021
Screenwest Welcomes Six New IAGC Members
The Screenwest Industry Advisory Group Committee (IAGC) would like to formally welcome new members Jodie Bell, Jules Fortune, Lien See Leong, Kim Lord, Mark Boskell and Natalie Marinho.
Tuesday, 24 August 2021
Star Dreaming premieres tomorrow at CinefestOz
The 180-degree dome feature film is making its world premiere on Wednesday 25 August, followed by a premiere season at the WA Maritime Museum starting Saturday 4 September.
Friday, 13 August 2021
Four WA Screen Producers Supported to Break the Celluloid Ceiling
Four successful screen producers have been selected to receive funding to undertake professional mentorships through Screenwest's Breaking the Celluloid Ceiling initiative, supported by Lotterywest.
Tuesday, 10 August 2021
Joined Up Films Selected to Guide Disability Diverse Series: Filming Our Futures
Screenwest and Carers WA are pleased to announce that WA factual production company, Joined Up Films, will work with four disability diverse screen practitioners and a brilliant group of WA storytellers living with disability, to create new short documentary series, Filming Our Futures: Our Choice, Our Voice, Our Way.
Friday, 6 August 2021
Applications Now Open for Scripted Development Funding
Screenwest has opened applications for the first Scripted Development funding round of the 2021-22 financial year. Applications close on Monday, 20 September at 5:00pm AWST.
Tuesday, 3 August 2021
Curious Australia Initiative Closing Soon
Curious Australia is a documentary production fund, seeking to highlight diversity in any sector.
Tuesday, 27 July 2021
Envelope Music Collection has Launched
Envelope Audio's Music Collection has launched to bring you a stunning mix of compositions and scoring materials right at your fingertips!
Friday, 23 July 2021
Sweet As! WA Feature Film Wraps Production in the Pilbara
Screenwest and Screen Australia are pleased to announce feature film Sweet As will wrap principal photography in Port Hedland with a stellar cast!
Monday, 19 July 2021
Screenwest Diversity & Inclusion Funding Program now open for applications!
Applications for the Diveristy and Inclusion Fund – General stream close Monday 6 September 5:00pm AWST.
Get the latest
What's happening in Western Australia?
Find out the latest news about Screenwest supported projects, achievements by WA creatives, what's filming in Western Australia, upcoming events, and opportunities for you to watch and support WA projects!
Image credit: Cast and crew of Blueback on location in Bremer Bay, Western Australia © David Dare Parker