Latest News
See the latest news from Screenwest and the Western Australian Screen Industry, including new initiatives from Screenwest, projects filming in Western Australia and achievements by WA creatives.
Photo credit

Ashleigh Nicolau © Matchbox Productions
Wednesday, 6 October 2021
Australia's Health Revolution with Dr Michael Mosley Premiering on SBS Wednesday 13 October
Artemis Media's new documentary series follows the renowned British doctor and weight loss expert as he embarks on a confronting journey alongside eight brave Australians.
Wednesday, 6 October 2021
Under The Volcano is Certified Fresh
Cody Greenwood's debut feature documentary has received universal acclaim from critics and audiences alike.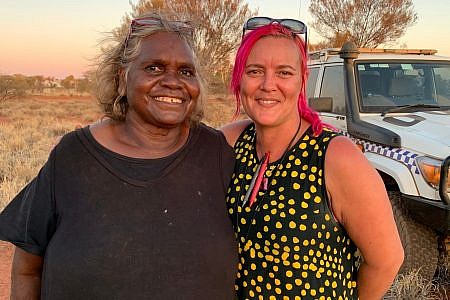 Monday, 20 September 2021
Our Law Documentary Series Commissioned by NITV
Following the success of the 2020 half hour WA documentary, Our Law, a full six-part documentary series has been commissioned by NITV.
Friday, 17 September 2021
The Truth About Anxiety with Celia Pacquola Premiering on SBS
The award-winning comedian and actress confronts her personal struggles in Joined Up Films' new documentary, directed by Nel Minchin, premiering 3 October.
Friday, 17 September 2021
ITCH Series 2 Premieres on ABC ME and ABC iview today
All 10 new episodes of the WA series – shot in Albany, Peel and Perth – have just dropped on ABC ME and ABC iview.
Thursday, 26 August 2021
Edit Assistant Attachment on Aussie Gold Hunters Season 7
A Professional Attachment opportunity is available through the Screenwest Crew Attachment Program on an upcoming Observational Documentary Series, Aussie Gold Hunters Season 7. Applications close Wednesday the 8th of September at 5:00pm AWST.
Friday, 20 August 2021
Iggy & Ace set to premiere at CinefestOz on 27 August
The series will see an advance screening and Q&A on Friday 27 August, followed by its release on SBS On Demand on Thursday 9 September
Tuesday, 10 August 2021
What Does Australia Really Think… set to release on SBS 18 August
Joined Up Films new documentary series hosted by Kurt Fearnley, Noni Hazlehurst and Casey Donovan premieres 8.30pm, 18 August, on SBS
Tuesday, 27 July 2021
Envelope Music Collection has Launched
Envelope Audio's Music Collection has launched to bring you a stunning mix of compositions and scoring materials right at your fingertips!
Friday, 23 July 2021
Sweet As! WA Feature Film Wraps Production in the Pilbara
Screenwest and Screen Australia are pleased to announce feature film Sweet As will wrap principal photography in Port Hedland with a stellar cast!
Friday, 9 July 2021
Feature Length Action Thriller, Avarice, in Production in WA
The Screenwest and Lotterywest supported feature film Avarice has commenced principal photography in Perth, Western Australia.
Tuesday, 1 June 2021
Outback Truckers Reaches 100 Episodes!
Outback Truckers Reaches Epic 100th Episode Milestone
The highly successful, Screenwest and Lotterywest…
Get the latest
What's happening in Western Australia?
Find out the latest news about Screenwest supported projects, achievements by WA creatives, what's filming in Western Australia, upcoming events, and opportunities for you to watch and support WA projects!
Image credit: Cast and crew of Blueback on location in Bremer Bay, Western Australia © David Dare Parker