Latest News
See the latest news from Screenwest and the Western Australian Screen Industry, including new initiatives from Screenwest, projects filming in Western Australia and achievements by WA creatives.
Photo credit

Ashleigh Nicolau © Matchbox Productions
Thursday, 13 January 2022
Breathtaking 'Ningaloo with Tim Winton' documentary series in production in Western Australia
The renowned, award-winning Australian author is set to introduce audiences to WA's Ningaloo Coast in this three-part series produced by Artemis Media in association with Matter of Factual.
Monday, 20 December 2021
'How to Please a Woman' set to hold world premiere at Perth Festival
Starring Sally Phillips, Renée Webster's comedy-drama will premiere at Perth Festival as part of Lotterywest Films this summer.
Monday, 20 December 2021
'Walking Man' documentary directed by Luna Laure greenlit for production
A documentary about unknown Perth artist Ross Seaton, known as 'Walking Man', will be directed by Luna Laure and executive produced by Brendan Hutchens of VAM Media.
Monday, 20 December 2021
2021 Highlights
2021, despite its challenges, has been a bumper year for the WA screen industry with the announcement of a $20M production attraction fund, $105M committed to screen infrastructure, new federal screen legislation, the production of four feature films, one drama series and several documentary projects.
Monday, 20 December 2021
Briege Whitehead shoots for the stars with new VR film 'Beyond the Milky Way'
'Beyond the Milky Way' is now screening at WA Museum Boola Bardip in Perth.
Thursday, 16 December 2021
'Nekograms' drops on iOS and Android today
The adorable mobile puzzle game about helping cats get to sleep was developed by WA interactive design studio, Hungry Sky, with support from Screenwest's 2019 Interactive Pilot Fund.
Wednesday, 24 November 2021
'Jaimen Hudson: From Sky to Sea' set to premiere on ABC Wednesday, 24 November
Sea Dog TV International's documentary feature follows Esperance-based Jaimen Hudson's quest to enter the ocean again for the first time in 12 years and swim with some of the world's largest ocean marine life despite being a quadriplegic.
Wednesday, 3 November 2021
Production wraps on 'Filming Our Future'
The disability-led short documentary series will explore the way sports and physical activities can drive inclusion and community cohesion.
Wednesday, 6 October 2021
Australia's Health Revolution with Dr Michael Mosley Premiering on SBS Wednesday 13 October
Artemis Media's new documentary series follows the renowned British doctor and weight loss expert as he embarks on a confronting journey alongside eight brave Australians.
Wednesday, 6 October 2021
Under The Volcano is Certified Fresh
Cody Greenwood's debut feature documentary has received universal acclaim from critics and audiences alike.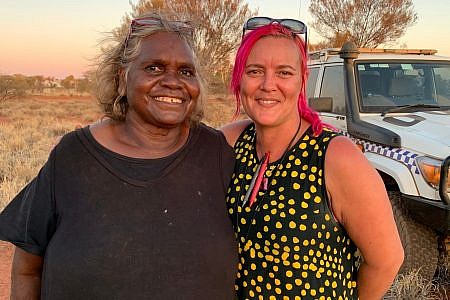 Monday, 20 September 2021
Our Law Documentary Series Commissioned by NITV
Following the success of the 2020 half hour WA documentary, Our Law, a full six-part documentary series has been commissioned by NITV.
Friday, 17 September 2021
The Truth About Anxiety with Celia Pacquola Premiering on SBS
The award-winning comedian and actress confronts her personal struggles in Joined Up Films' new documentary, directed by Nel Minchin, premiering 3 October.
Get the latest
What's happening in Western Australia?
Find out the latest news about Screenwest supported projects, achievements by WA creatives, what's filming in Western Australia, upcoming events, and opportunities for you to watch and support WA projects!
Image credit: Cast and crew of Blueback on location in Bremer Bay, Western Australia © David Dare Parker